Meet our team of instructions that are looking to make sure you enjoy SUP and SUP Yoga as much as we do. You can contact each of them directly on their pages, or use our convenient Contact Form for General Inquiries and someone will get back to you shortly.
Kristy Wright Schell
Just Add Water Yoga Ltd Owner
Stand Up Paddle Vancouver Instructor
Certified Yoga Teacher (RYT 200hr Yyoga Foundation, 80hr Yhot, and Baptiste Level 1 & 2 and Art of Assisting Teacher Training)
Lululemon Ambassador 2011 to present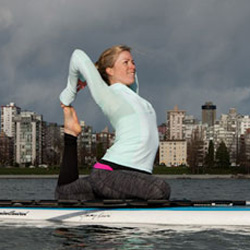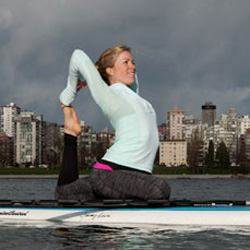 Kristy grew up in Ontario spending time on the lakes and water ways of Muskoka wakeboarding. After moving to Whistler in 2002 the mountain lifestyle industry opened many doors in sales & marketing, but with office work came stress and deadlines, to help manage this lifestyle Kristy started practicing yoga. Through her yoga practice and teaching Snowboard and horseback riding teaching Yoga was a natural transition. Receiving her 200hr Foundation Yoga teaching certification with Yyoga in Vancouver, BC Canada she has since trained with Baron Baptiste and teaches Power Yoga among other styles.
After paddle boarding in Hawaii she began to look at the paddle board as a moving mat to not only expand her practice but work stabilizing muscles to refine her practice on the mat.
Through starting SUP Vancouver, Kristy has continued to grow the yoga practice on her board and looks forward to teaching others the joy and fun that comes with challenging your balance and your body.  Kristy is a Certified Paddle Canada Instructor Trainer and teaches a comprehensive SUPYoga Teacher training which incorporates Paddle Canada and her teachings on the water for a fully comprehensive look at starting your own floating studio!
Tobey Booker – White Rock
SUP Yoga Instructor
Paddleboard Instructor (Paddle Canada)
Yoga Teacher (200CYA)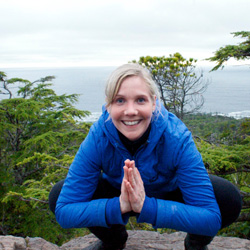 Tobey grew up in Vancouver BC, spending long summer days on the beaches of White Rock with her family. Living and playing on the beautiful West Coast led her to Stand Up Paddle Boarding, as it was something she could do outside her door.
Her career on the water began in 2012 with Paddle Canada's Stand Up Paddleboard Instructor training and soon after that she completed her Yoga Teachers Training in Kelowna BC at Trinity Yoga Centre.
Combining Yoga and Paddle boarding was a fun experiment of play and challenge. Connecting with Kristy through SUP Vancouver introduced SUP Yoga as a terrific addition to her personal practice and teaching skill set.
Time with Tobey on the water is full of smiles and a love for connecting with each other in an all-encompassing practice. All levels will enjoy Tobey's classes feeling energized and inspired.
Julie Laforce – Vancouver
200h Teacher training at YYoga with Rachel Scott
80 h Yhot Teacher training with Kristin Campbell
40h Level 1 JOGA Teacher training with Jana Webb
25h SUPYoga Teacher training with Kristy Wright Schell
Paddle Canada advanced Flatwater SUP instructor course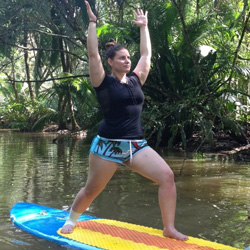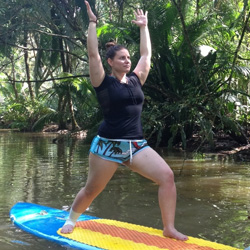 Julie was once described like a sparkling wine, that as soon as you open it, you'll be taken by her effervescence bubbling out and maybe even sprayed by an overflow of freshness.
Julie was raised in a bilingual French and English family in Quebec City, as you can detect from her quirky accent and expressions. Her authentic passion for simplicity along with her sharing personality will make you full and see Yoga through her warm smile. Julie's love of yoga started in 2006 when she decided to join in for a yoga session on the beach. She knew what yoga was on the surface, but was a newbie to the practice. That first morning, she could not have imagined that it would change her life. She was mentally and physically in awe, didn't know what to make of it at first. All she knew was from that moment on she wanted to learn more and started to strive towards gaining more knowledge. She started to integrate that knowledge into her surfing and her everyday life, and saw a major improvement in her abilities to face a wave or the world. After moving to Vancouver for work in 2010, her love for yoga grew stronger and stronger. She now wanted to share what she had learned with others. In 2012 she started her journey as a yoga teacher. From there it was just a matter of time before she combined her passion for the ocean and yoga.
Julie's passion for yoga stems not only from a love of physical expression, but also out of her desire to connect with all people through new and empowering classes. She is grateful to witness the processes of self-discovery and personal development that occur every day in her indoor and outdoor classes. Julie believes that although we may all come to yoga for different reasons, and have specific needs, we can share in a common experience through yoga. Julie is passionate about building community, and creating a welcoming environment for students blended with an appreciation of nature. Julie specializes in Stand up Paddle yoga, Vinyasa Flow, Power, Hot Yoga and JOGA.
Heather Eschuk – Vancouver
Certified Yoga & Lifestyle Educator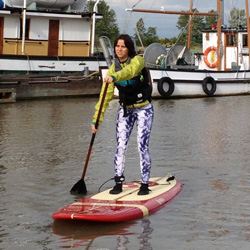 Heather Eschuk is a Certified Yoga & Lifestyle Educator, Healthcare Consultant and Chair of the West Vancouver Women's Network. She has advanced studies in Classical Hatha & Ashtanga Yoga Systems, Yoga Therapy and specializes in iRest® Yoga Nidra. Helping her gain control of several auto-immune and chronic conditions she had been suffering with since childhood, Yoga has had a profound effect on Heather's health and well-being. With a unique sense of style Heather teaches with creative spontaneity, humour, intuition and her from own "own genuine experience". Her classes are healing, cultivate present moment self-understanding and well-being. She's also been known to give health and anatomy tips.
Heather likes trees, mountains, tea, lakes, snowboarding and beach. She has recently found herself immersed in awesome moments of wonder while Stand Up Paddleboarding.