Our Instructors
Meet our team of instructions that are looking to make sure you enjoy SUP and SUP Yoga as much as we do.
Kristy Wright Schell
Just Add Water Yoga Ltd Owner
Stand Up Paddle Vancouver Instructor
Certified Yoga Teacher (RYT 200hr Yyoga Foundation, 80hr Yhot, and Baptiste Level 1 & 2 and Art of Assisting Teacher Training)
Lululemon Ambassador 2011 to present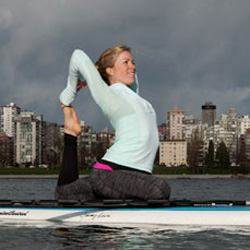 Kristy grew up in Ontario spending time on the lakes and water ways of Muskoka wakeboarding. After moving to Whistler in 2002 the mountain lifestyle industry opened many doors in sales & marketing, but with office work came stress and deadlines, to help manage this lifestyle Kristy started practicing yoga. Through her yoga practice and teaching Snowboard and horseback riding teaching Yoga was a natural transition. Receiving her 200hr Foundation Yoga teaching certification with Yyoga in Vancouver, BC Canada she has since trained with Baron Baptiste and teaches Power Yoga among other styles.
After paddle boarding in Hawaii she began to look at the paddle board as a moving mat to not only expand her practice but work stabilizing muscles to refine her practice on the mat.
Through starting SUP Vancouver, Kristy has continued to grow the yoga practice on her board and looks forward to teaching others the joy and fun that comes with challenging your balance and your body.  Kristy is a Certified Paddle Canada Instructor Trainer and teaches a comprehensive SUPYoga Teacher training which incorporates Paddle Canada and her teachings on the water for a fully comprehensive look at starting your own floating studio!
Tobey Booker – White Rock
SUP Yoga Instructor
Paddleboard Instructor (Paddle Canada)
Yoga Teacher (200CYA)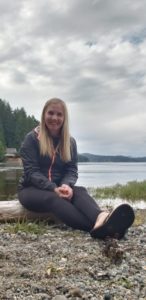 Tobey grew up in Vancouver BC, spending long summer days on the beaches of White Rock with her family. Living and playing on the beautiful West Coast led her to Stand Up Paddle Boarding, as it was something she could do outside her door.
Her career on the water began in 2012 with Paddle Canada's Stand Up Paddleboard Instructor training and soon after that she completed her Yoga Teachers Training in Kelowna BC at Trinity Yoga Centre.
Combining Yoga and Paddle boarding was a fun experiment of play and challenge. Connecting with Kristy through SUP Vancouver introduced SUP Yoga as a terrific addition to her personal practice and teaching skill set.
Time with Tobey on the water is full of smiles and a love for connecting with each other in an all-encompassing practice. All levels will enjoy Tobey's classes feeling energized and inspired.