Stand Up Paddle Vancouver creates memories and experiences on the water to last a lifetime…
Private and Semi Private lessons are our specialty – these can be 1-2 people or up to 6 in a private group.  With the amazing options of areas to paddle in Vancouver let us customize your experience to best suit your abilities or to find the prime time and location for you to try this amazing sport for the FIRST TIME!  CALL 778-833-2445 or EMAIL 
*Hotel Pick- Up Available for most locations for an added fee of $10
If you're seeking WORKSHOPS OR CLINICS that create a well rounded experience including safety on the water, selecting your first board, Paddle Canada Skills courses, SUP Yoga and Fitness CLICK HERE
Looking for a WEEKLY class where you can stretch on water and challenge your mind body and connect more deeply to nature CLICK HERE
View our Locations page for details on where we hold our lessons/workshops, but remember that we are 'mobile' and are willing to customize your lesson locations based on skill level and weather!
*Don't see a class scheduled that you'd like?  Contact Us for customized Group and Private lessons
All prices below include all applicable taxes.
Siwash Rock Tour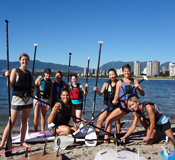 90min - includes beach intro and on water lesson and additional paddling time
Includes Board, Paddle & PFD - $75

This 90min excursion will not only show you why being on the water on the west coast is magical – but we will teach you ALL the basic skills you need to continue to explore and join us on future excursions.
If you've paddled before OR not this tour offers something for everyone.  Our Paddle Canada Certified Instructors have a wealth of knowledge and experience and will share all the hidden secrets of paddling on our beautiful Pacific Ocean.
From reading tides, weather, spotting wildlife to the calm, beauty of Siwash Rock and starfish you're sure to leave this lesson beaming about life on the water!
*no previous experience necessary – but do let us know!
We want every student to have the best experience on the water and will adapt our lessons to meet your needs and whatever the weather brings! **Lessons will run rain or shine – should the instructor deem the lesson conditions unsafe – at which point the lesson will be rescheduled for the next available time/day.

*want this lesson registered with Paddle Canada for future courses?  Ask for details
Private Lesson (one on one) – $150
Semi Private Lesson ( 2 student max) – $80/per student                                                                 Groups can be arranged from 3-18 in size – contact us for a quote!
Advanced SUP Skills
2 Hours - includes beach intro and on water lesson and additional paddling time
Lesson Only - $75 * Add Board, Paddle and PFD - $20

This Advanced SUP Skills Clinic is designed for someone who has paddled several times both a lesson and/or on their own and are now ready to refine their skills and learn more advanced ways to navigate their board on the water – from paddling around False Creek to English Bay, Deep Cove or lakes and Rivers close to home you will leave this program feeling confident in your basic skills while introducing more advanced SUP strokes and a focus on smart decision making skills on the water. SUP Skills is designed for groups and includes one on one coaching on technique, efficiency and style.
*This Advanced Skills Course can be registered with Paddle Canada to qualify for your SUP Flatwater Instructor course – simply request when booking.
SUPYoga Workshop
3 Hours - includes 15 minute beach intro and 1 hour 15 minutes on water skills lesson AND 1 hour 15 minutes SUPYoga
Lesson Only - $75 * Add Board, Paddle and PFD - $20

SUP Yoga is a combination of Stand Up Paddling and Yoga, the emphasis on core stability is a wonderful addition to the yoga workout and the paddling experience. The peacefulness of floating on the water combined with the meditative nature of yoga. In this class you will be provided with the skills and knowledge of the moving mat to take your yoga on to the water. Enjoy the freedom to move and be moved on our 'moving mat'.

Breakfast Club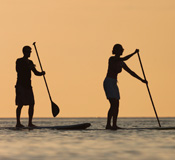 1 Hour
Guided Paddle - $20
* Add Board, Paddle and PFD - $10

This 1 Hour fully guided paddle will take you into the beautiful English Bay along the sea wall at the most Western part of Stanley Park!  We will paddle the quiet of the morning hours visiting with eagles, seals, herring and many others… Then connect with other stoked paddlers over tea/coffee or maybe even a full breakfast!
*breakfast price Not included
Your time on the water will begin with a very basic enter/exit, forward stroke and basic turning – This paddle will be filled with fun and laughter as you float along sharing in the social conversation of other Stand Up Paddlers.

***SUP EXPERIENCE for this class is expected – please notify SUP Vancouver prior to this lesson if you have registered for this class and NEVER SUP'd before.
SUP Adventures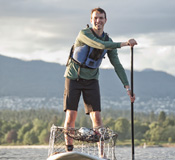 Length Varies by Program
Cost Varies by Program

Stand Up Paddle Vancouver is a great way to host your next birthday, stag or bachelorette and customize your program by adding a a toast to the bride/groom on the water, a picnic or SUP Crabbing. Just ask for details.